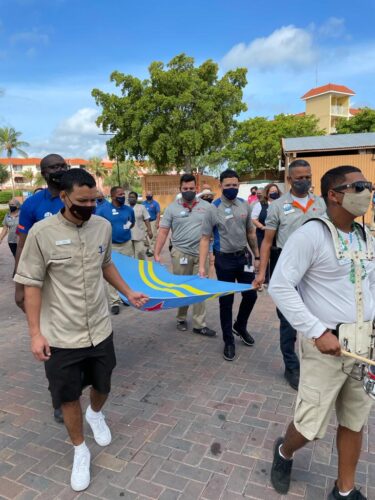 Aruba's flag was on display for the day when La Cabana Beach Resort & Casino observed the island's 45th Flag & Anthem Day, just recently.
Early in the morning, associates were invited to a traditional hoisting of the flag ceremony, paying tribute to national symbols and repspectfully listening to Aruba Dushi Tera, the island's much-loved national anthem.
It was a distinctly patriotic moment for the team.
Later that day, via zoom, virtual platform, several teams competed against each other in a friendly Kahoot! quiz about Aruba, covering history, and customs.
Aruba's cultural bounty entertained participants as they were quizzed for prizes and laughs. It was a fun experience, honoring the beauty of the island and the quick-wit of its people.