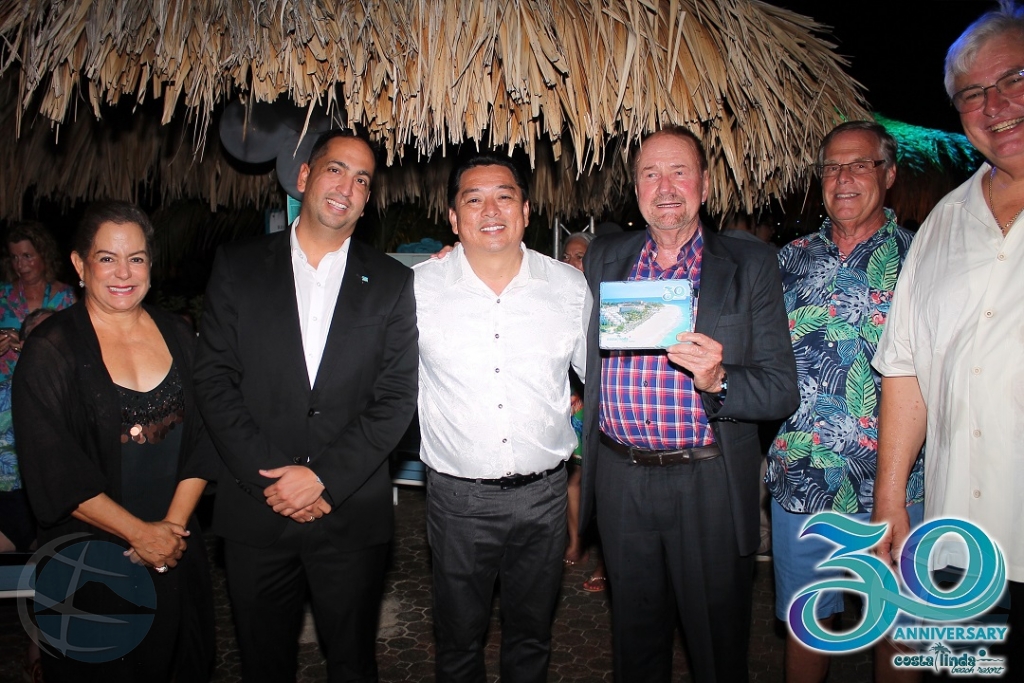 Posted on 10/18/2021 10:39 am AST | Updated on 10/18/2021 10:40 am AST
PUNTA BRABO – Recientemente Costa Linda a celebra su 30 aña di aniversario. Luigi Heredia, General Manager a yama bon bini na hopi bishitante na su resort, riba e occasion. E celebracion a tuma luga na e pool deck  den presencia di e.o. Minister di Turismo y Salud, Dangui Oduber, CEO di Aruba Tourism Authority, Ronella Croes y Presidente di Hunta di Costa Linda, Gale Measel y miembronan di hunta.
RESORT NO A CERA
Aña pasa durante e pandemia, Costa Linda tabata un di e dos resort cu nunca a cera. Mientras henter e isla a paralisa completo, Costa Linda tabata tin bishitantenan y den consideracion di su staff, a keda cu tur nan empleadonan, brindando salarionan completo y siguridad di empleo, den sosten completo di su miembronan kende a haci hopi contribucionnan adicional special.
CEREMONIA
E ceremonia a honra 10 di e resort su empleadonan kende a keda cu e resort desde inicio, den total 27 staffers, cada un cu mas di 25 aña na e propiedad.
HISTORIA 
Historia ta revela cu e prome unidad a wordo bendi na Costa Linda Beach Resort prome cu construccion na 17 di December, 1990. E prome bishitante a yega riba 1 di November 1991, anto a conclui cu un fiesta grandi riba 16 di Mei 1992.
HISTORIA
E resort, na Punta Brabo cumisando na Eagle Beach, ta ocupa aproximadamente 6.5 acres di tremendo bista pa lama cual ta wordo disfruta pa bishitantenan y miembronan for di nan terasa of unidadnan di balcon. General Manager Luigi Heredia, tabata na cabes pa 13 aña como representante di Royal Resorts Caribbean akinan, e resort ta wordo maneha y ta pertenece na Costa Linda Beach Resort Cooperative Association cual ta encera tur su doñonan di Timeshare, manehado e edificio di cinco piso den forma di piramide cu su 155 unidadnan y 139 two bedrooms, 16 three bedroom suites y 5 luxury Frangipani suites. E resort ta un tremendo exito desde inicio resultando den haya diferente TripAdvisor Certificates of Excellence, y varios mas Interval y RCI Commemorative Plaques.